You might be surprised to hear Josh Muccio, host of The Pitch podcast, has a co-founder... and it's his wife.
Hi! I'm Lisa Muccio and I'm the co-founder of The Pitch.
I've worked behind-the-scenes for seven years. But now I'm ready to spill all the juicy details of our past here in The Pitch Insider.
Are y'all ready for this?
The Dream
The year is 2015.
One morning Josh wakes up, rolls out of bed, and says, "I had a dream last night that I started a podcast."
My reply: "You should do it!"
By the end of the day, Josh has published his first episode of a very mediocre podcast. But, hey, we all gotta start somewhere.
That podcast was called The Daily Hunt. Josh would interview the creator of the top product on Product Hunt every. single. day.
Josh and I sold our first business back in 2014, and we wanted to build something new. We didn't know what that thing was… but we knew The Daily Hunt was not it.
Josh is an entrepreneur all-the-way, and living with him is like living with a vending machine that spits out business ideas all the time.
"Let's start an e-commerce site that ships graphic tees."
"Let's start a super fast web hosting service."
"Let's build an app that lets you sign into other apps with one click."
No. No. No. I'm all for taking risks and trying new things, but not every idea is THE idea. You have to find a gem.
I knew we were on the right track with The Daily Hunt, but something was… off.
Finding The Thing
One day Josh comes to me with his diamond in the rough.
"I was talking with Harry Stebbings, and we discussed an idea for a podcast like Shark Tank, but ya know, how deals really get done without the fake TV drama. I'd call it The Pitch."
"Sounds like a good idea!" I yell over the ruckus of our two toddlers. (This is how Josh and I have most of our business discussions, amidst the noise and chaos called children.)
A few weeks later, Sheel Mohnot enters the scene.
When Josh gets off the call he tells me, "This investor in SF wants to do a podcast with me like Shark Tank. He can record the pitches in person, and I'll do the narration."
Uh, yes! Ding, ding, ding! We have a winner. This is "the thing" we had been searching for.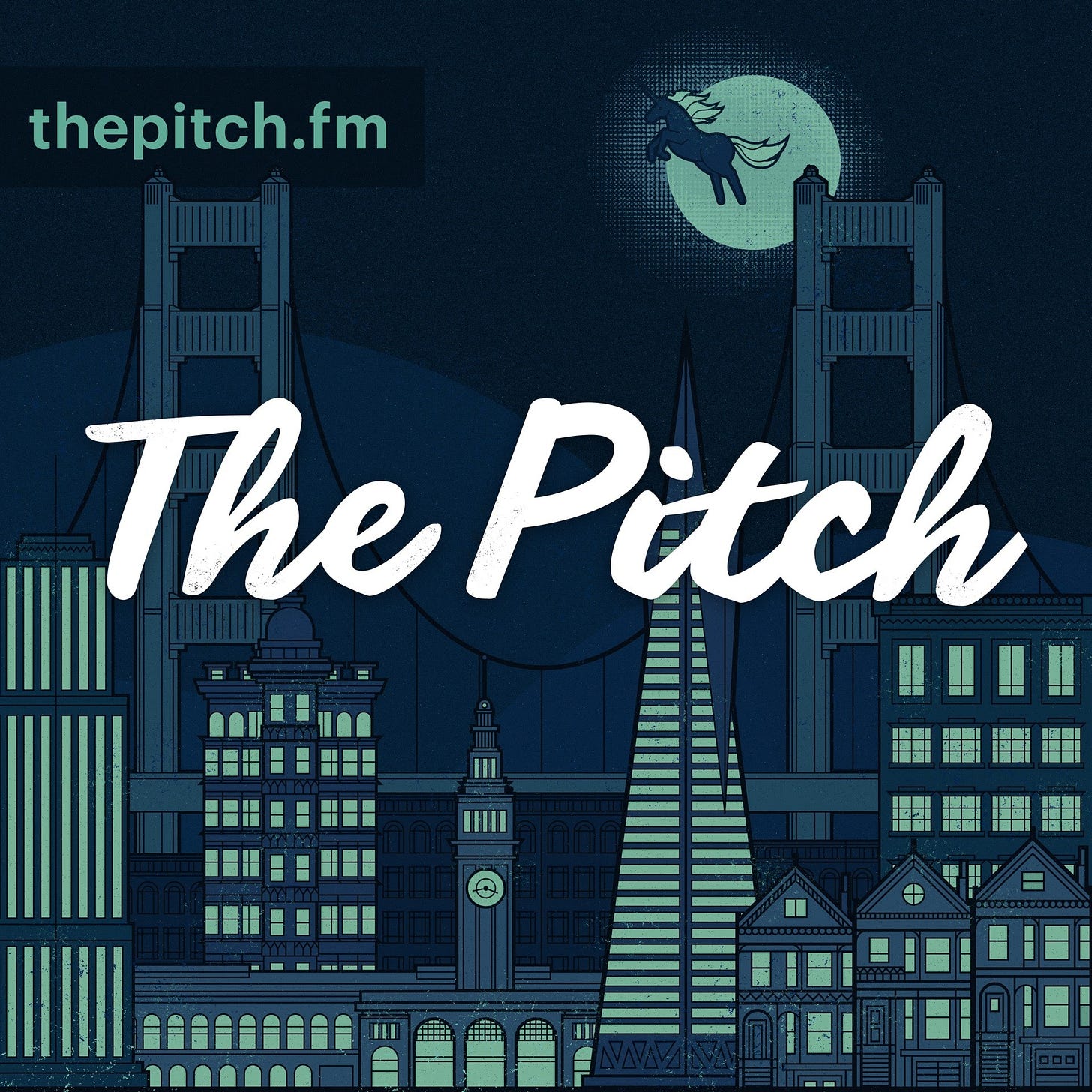 So, we got to work. Sheel recorded real founders pitching real investors in San Francisco, and Josh co-hosted and produced the show from Sarasota, Florida.
The only problem? The investors.
We recorded fifty-five episodes, where every single investor said: "Sure I'd take another meeting," but never actually invested on the show. 😒
The podcast wasn't growing, and we were making only $2K on ads… in a good month. We were about to call it quits.
In 2016, we would try one last push to make the show work.
The Pivot
"Let's do this for real," Josh said. "We'll find investors who will commit money on the spot in an hour. We can rent a studio in SF, and bring founders before a panel of VCs to record pitches."
If Josh is the visionary-and-idea guy, then I am the figure-out-how-to-make-it-happen girl.
I'm logistics and creative problem-solving. Plus, my background is in events. You want to plan a two-day podcast recording event on a budget? I'm all over it.
We found the cheapest - and strangest - recording studio located in the Tenderloin of San Francisco. (There was a boat strung with Christmas lights IN the recording area and double-headed taxidermal animals in a creepy back room.)
We tapped into the show's network from previous episodes to find companies. Phil Nadel and Jake Chapman were the first investors to say they would invest on the spot. Then, Jake pulled in Howie Diamond and Jillian Manus.
Weeks before the recording Jillian was having second thoughts and wanted to back out. She was worried she wouldn't actually make any investments on the show. (Which is funny now, since Jillian and her fund have invested over $4.5 million in companies on The Pitch!) Josh got on a call with Jillian, soothed her fears, and got her excited about The Pitch again.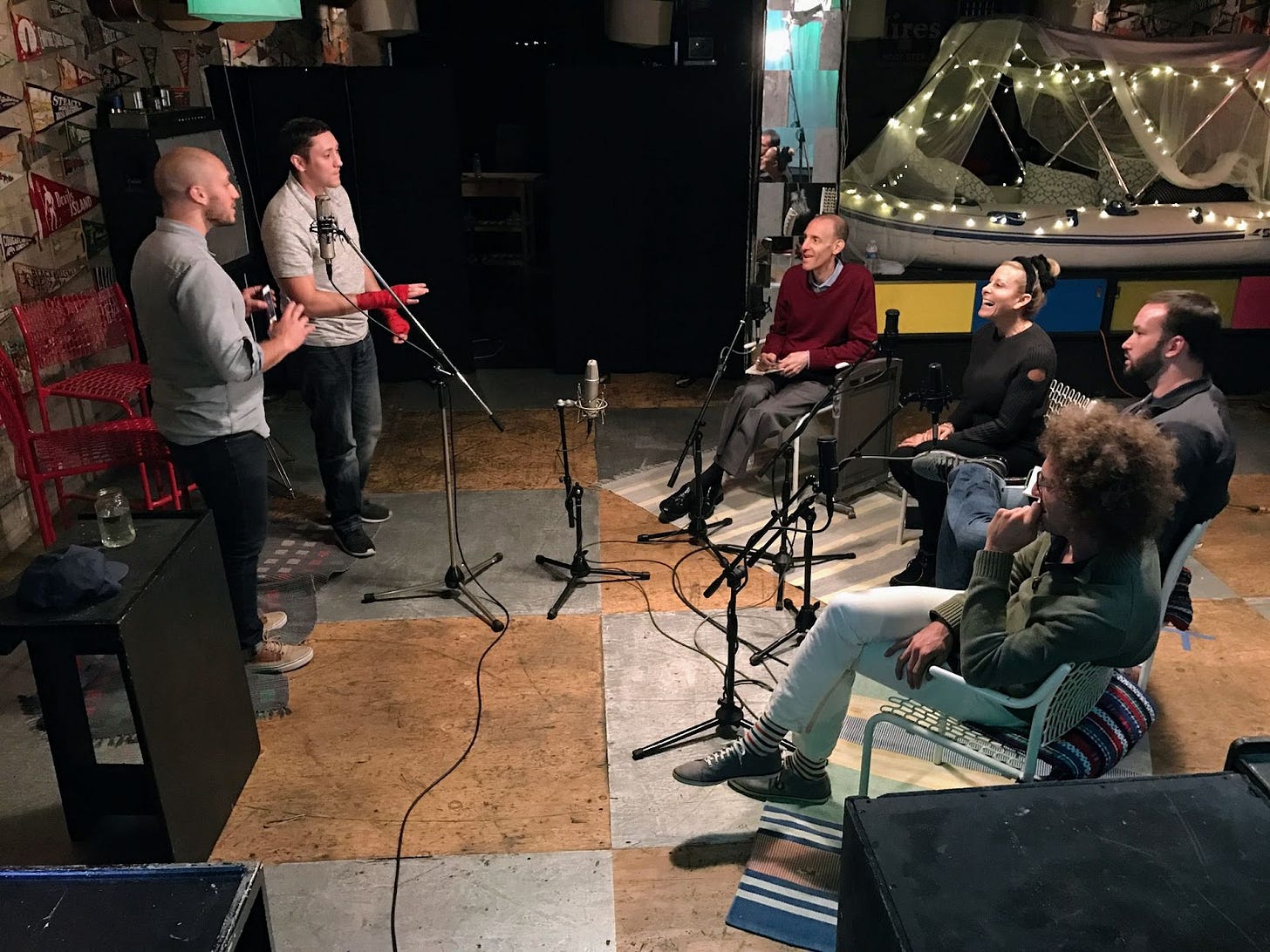 At that first event we recorded 12 pitches from early stage companies and had over $1 Million in commitments. One of those companies was Hykso (aka Fight Camp who went on to raise $90 Million in their most recent Series B round).
We knew we had something special. We hired a production team and got to work crafting episodes.
The night before Episode #1 aired, I typed up our first press release, arms reaching around my pregnant belly to get to my laptop…our two-year-old asleep on my shoulder. And we launched the show that would impact so many lives, ours included.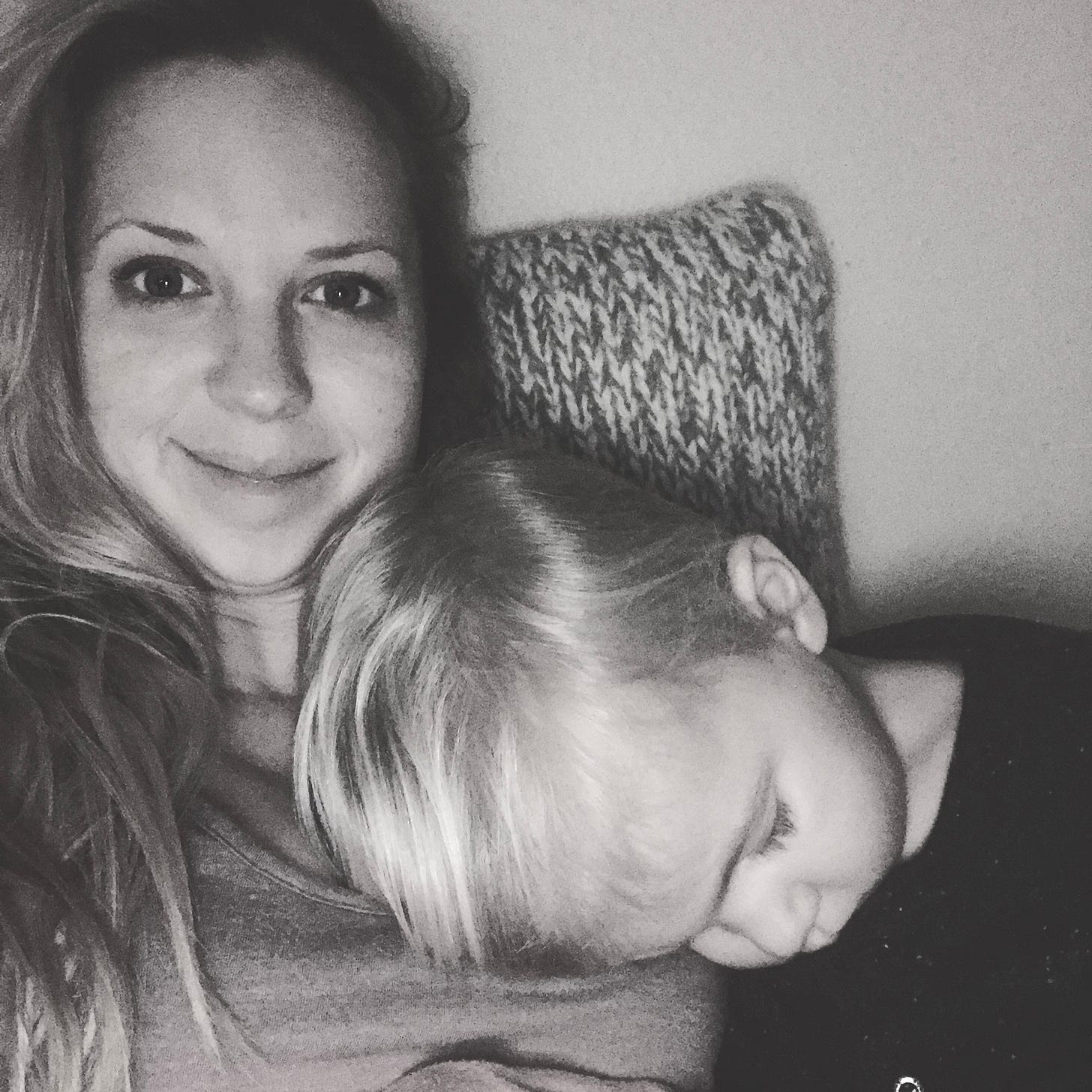 Over the course of the next four years, The Pitch held 9 recording events and produced 100 episodes. We have helped 27 companies land over $10 million in funding. And that doesn't include the founders who learned how to pitch by listening to our show.
Our Ask
Our purpose at The Pitch is to educate and empower founders by bringing access to all.
If you know someone who would like to join us on this journey as a reader, listener, or investor, please share this newsletter with them.
We are currently raising money for The Pitch Fund! To learn more and apply go to thepitch.fund.
Coming Up Next
In Part 2, One Podcast, Three Acquisitions, I pull back the curtain on our Gimlet years.
If you haven't listened yet, check out Episode #101 Josh Pitches The Pitch to see if the host of The Pitch is any good at pitching!